Upcoming Events:
Insights & Power
A key challenge to good platform governance is the existence of knowledge asymmetries between governance actors. Platforms, scientists, civil society, regulators all know different things and have different perspectives on key elements like socio-technical platform architectures, incentive structures, norm production systems, algorithmic tools, and user behaviour. In light of the growing body of research on how platforms develop rules, and how public values should be integrated into private orders, three Kantian questions remain for platform governance research and practice: What can scientists know? What should platforms do? What can governments hope?
Insights and Power. Internet Scientists meet Decision-Makers is a series of workshops and public-facing events that put key internet scientists in conversation with platform leaders. Together they will enquire what action knowledge is essential for impact-oriented platform research, how knowledge transfer to platforms and regulators can happen and how cross-disciplinary, international platform research can successfully be financed and conducted.
On Thursday April 7th, 6pm CEST, Renate Nikolay, Head of Cabinet of Vĕra Jourová, Vice-President for Values and Transparency, speaks with Wolfgang Schulz (with Matthias Kettemann moderating) about Globalizing the European Media Order: The Brussels Effect in Times of Crisis. More info and registration here.
Previous Events:
Insights & Power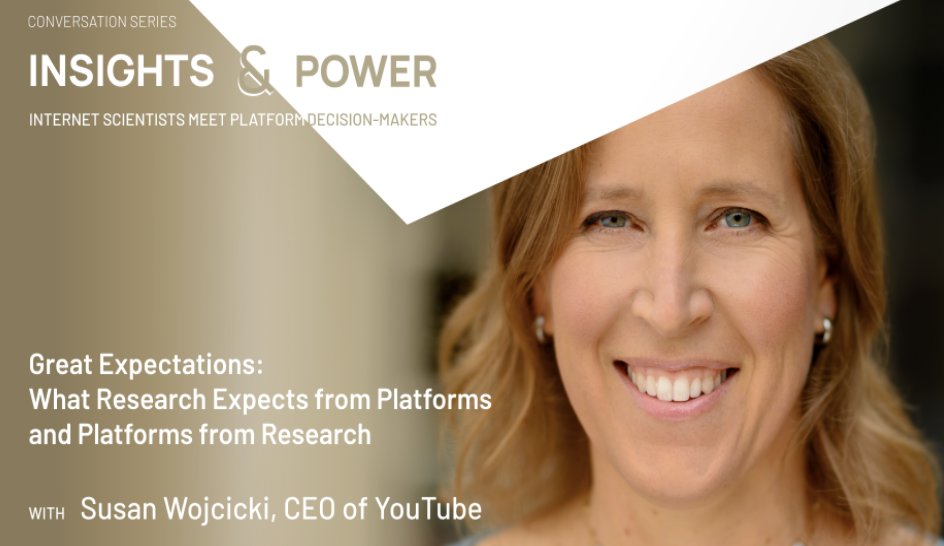 On 10 February, 7pm CET, Susan Wojcicki, CEO of YouTube spoke with Wolfgang Schulz (with Matthias Kettemann moderating) about Great Expectations: What Research Expects from Platforms and Platforms from Research. The video recording of this event is here.
Private Ordering Perspectives
Private Ordering Perspectives was a series of online talks spread out across the months of June, July and September 2021, each month with its own perspective. The three questions that the series is built on each tackle a general framework of private ordering, while simultaneously highlighting a particular case.
Query I: Who gets to speak? What deplatforming can teach us – June
Query II: What can we speak about? What dealing with disinformation tells us – July
Query III: Who makes the rules? Designing for better speech governance – September
On 10 June, 1:00 p.m. – 2:00 p.m. CEST, Prof. Maura Conway of Dublin City University talked to us about deplatforming and why one size does not fit all.
Paper: Maura Conway (2020) Routing the Extreme Right, The RUSI Journal, 165:1, 108-113
---
On 17 June, 12:00 p.m. – 1:00 p.m. CEST, Prof. Richard Rogers of the University of Amsterdam talked to us about what happens after deplatforming.
Paper: Richard Rogers (2020) Deplatforming: Following extreme Internet celebrities to Telegram and alternative social media, European Journal of Communication, 35:3, 213–229.
---
On 24 June, 1:00 p.m. – 2:00 p.m. CEST, Prof. Elizabeth Pearson of Royal Holloway University talked about how deplatforming can be seen as positive by those deplatformed.
Paper: Elizabeth Pearson (2018) Online as the New Frontline: Affect, Gender, and ISIS-Take-Down on Social Media, Studies in Conflict & Terrorism, 41:11, 850-874
---
On 8 July, 1:00 p.m. – 2:00 p.m. CEST, Prof. Stephan Lewandowsky of the University of Bristol talked to us about debunking and inoculation as solutions to misinformation.
Paper: Stephan Lewandowsky & Sander van der Linden (2021) Countering Misinformation and Fake News Through Inoculation and Prebunking, European Review of Social Psychology.
---
On 15 July, 3:00 p.m. – 4:00 p.m. CEST, Farnaz Jahanbakhsh of MIT talked to us about lightweight interventions at posting time.
Paper: Farnaz Jahanbakhsh, Amy X. Zhang, Adam J. Berinsky, Gordon Pennycook, David G. Rand, and David R. Karger (2021) Exploring Lightweight Interventions at Posting Time to Reduce the Sharing of Misinformation on Social Media, Proc. ACM Hum.-Comput. Interact. 5, CSCW1, Article 18.
---
On 29 July, 1:00 p.m. – 2:00 p.m. CEST, Owen Bennet from Mozilla talked to us about regulatory theory and disinfomation.
Paper: Owen Bennet (2021). The Promise of Financial Services Regulatory Theory to Address Disinformation in Content Recommender Systems. Internet Policy Review, 10(2).
---
On 2 September, 1:00 p.m. – 2:00 p.m. CEST, Prof. Daria Gritsenko of the University of Helsinki talked to us about algorithmic governance through a modes of governance approach.
Paper: Daria Gritsenko & Matthew Wood (2020) Algorithmic Governance: A Modes of Governance Approach, Regulation & Governance.
---
On 9 September, 1:00 p.m. – 2:00 p.m. CEST, Charis Papaevangelou of University of Toulouse will talk to us about disambiguating governance and regulation in the context of online content.
Paper: Charis Papaevangelou (2021) The Existential Stakes of Platform Governance: A Critical Literature Review. Forthcoming.
---
On 30 September, 5:00 p.m. – 6:00 p.m. CEST, Prof. Eric Goldman of Santa Clara University will talk to us about remedies imposed by platforms in response to content rule violations.
Paper: Eric Goldman (2021) Content Moderation Remedies, Michigan Technology Law Review. Forthcoming.
---